Clear Your Path to a Straighter Smile
Straighten your teeth discreetly and confidently with clear braces at Form Orthodontics. Clear braces use tooth-colored ceramic brackets so your orthodontic treatment can fly under the radar.
A Clear Alternative to Metal in Orem & Nephi
Clear ceramic braces are a new variation on the traditional system that provides a far less noticeable treatment option. You get a straighter smile without all the attention of traditional metal braces.
They use the same components as traditional braces, but the brackets on the front side of the teeth are made of a translucent ceramic material that blends in with the tooth's natural color. This makes ceramic braces much less noticeable than metal braces.
Many older teenagers and adult patients at Form Orthodontics prefer this subtler option to get the smile they've always wanted. So if you prefer a more discreet way to straighten your teeth that fits in with your active lifestyle, ceramic braces with Dr. Reid make a fantastic option.
Ceramic Braces Vs. Metal Braces
Ceramic braces from Form Orthodontics are similar to metal braces, but there are some differences to consider:
Appearance: Ceramic braces are designed to be less noticeable because they match the color of your teeth. While the clear elastics used with ceramic brackets may stain, Dr. Reid changes these bands out at every adjustment appointment, so discoloration isn't an issue.
Material: Ceramic braces use special materials that are resistant to staining and blend in with your natural tooth color. Most patients find ceramic braces to be more comfortable than their metal counterparts.
Durability: Ceramic braces are strong and reliable, so they'll work as well for most orthodontic issues, including more complex issues.
While clear braces are durable, your treatment may last slightly longer with ceramic braces compared to metal braces. This is because Dr. Reid may have to make smaller adjustments with ceramic braces than traditional braces, as metal brackets can typically tolerate more pressure than ceramic ones.
Also, ceramic braces typically cost a little more than metal braces However, at Form Orthodontics, we'll work with you to determine a flexible payment plan that works for your and your family's budget.
Why Clear Braces Make an Awesome Option
People all over Orem, Nephi, and the surrounding areas are familiar with the many advantages of clear braces at Form Orthodontics. For example:
Less Noticeable
Ceramic braces use a transparent material that blends in with your teeth, making them less noticeable compared to metal braces — and allowing you to smile more confidently throughout your treatment.
Comfortable Experience
The smooth surface of ceramic braces reduces irritation and discomfort commonly associated with traditional braces. This provides you with a more comfortable overall experience.
Effective Results
Ceramic braces are highly effective at correcting various orthodontic issues, including crowded or crooked teeth, gaps, and bite problems.
Wonderful Orthodontic Solution
If you're wondering whether clear, ceramic braces are the right choice for you, schedule a consultation with Dr. Reid at Form Orthodontics. During your first visit, Dr. Reid will assess your specific needs, discuss your treatment options, and recommend the most suitable orthodontic solution.
Clear braces might be the perfect fit if:
You want a discreet orthodontic treatment option.
You have mild to moderate orthodontic issues that can be effectively addressed with ceramic braces.
You value the combination of effectiveness, aesthetics, and comfort that clear braces offer.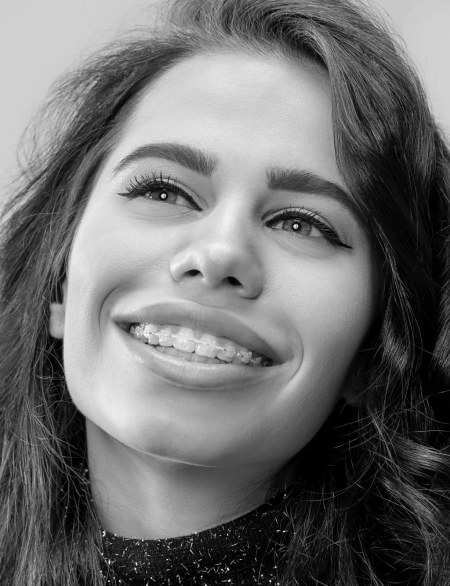 Let Your Smile Shine
At Form Orthodontics, we understand the importance of feeling confident throughout your orthodontic journey. With clear, ceramic braces, you can achieve a beautiful smile while enjoying a discreet and comfortable treatment experience.
Schedule a consultation with Dr. Reid today to explore the possibilities of clear braces and take the first step toward your dream smile. Our team is here to support you every step of the way, providing personalized care and helping you unlock the full potential of your smile.